NEWS
Schumacher looking forward to Magny Cours
[30 June 2005]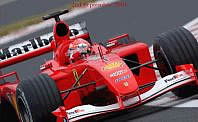 After the goings on at the United States Grand Prix in which Michael Schumacher and Rubens Barrichello finished first and second in a field depleted of Michelin runners, it is back down to the serious stuff this weekend at Magny Cours, home of the French Grand Prix.
The 18 points gained at Indianapolis vaulted Ferrari up to join second with McLaren in he Constructors' Championship with 63 points, while Michael Schumacher has moved up to third in the standings with 34 points, five ahead of team-mate Rubens Barrichello in fourth position.
Last year at Magny Cours, Schumacher and Barrichello finished first and third with the Brazilian making a daring last lap pass on Jarno Trulli to gain the final podium position.
Tyre supplier Bridgestone have been working hard on new compounds for Magny Cours while also keeping an eye on rear tyre wear due to the typical heat build up on the track surface.
One concern Ferrari has is the fact that both Schumacher and Barrichello completed the US Grand Prix and unlike its nearest championship rivals, will be using an engine that has already completed 600KM this weekend in France.

Michael Schumacher:

"I love the countryside in the heart of France. The nature and the peace and quiet of the area make me eager to compete in the race. This is mainly because it is a demanding circuit and not an easy one to take on by any means. The surface temperature here can be very high, this makes things more difficult during races when the track can become very slippery. It is important to prepare for this but it is not something that I like."
"I prefer taking curves flat out without having to consider the grip levels of the circuit. Still, we have to consider what effects the track will have on our new tyres which, as we know, cannot be changed between qualifying and the race."
"We tested intensively last week at Barcelona and we are well prepared for Magny Cours. We have scored good results here in the past and taking into account the progress the car has made over the past few weeks, I have to be optimistic about Sunday's race."