NEWS
Schumacher salvages third for Bridgestone
[3 July 2005]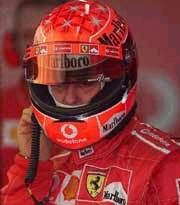 Michael Schumacher came away from this afternoon's French Grand Prix with another six valuable points today after finishing third in the 70-lap race. He retains his third place in the drivers' points standings and lies just five points behind second placed Kimi Raikkonen. Schumacher's Ferrari teammate Rubens Barrichello had a disappointing race, finishing ninth with brake problems.
Hisao Suganuma, Technical Manager:

"A disappointing result to not see Michael higher up the podium but it was a well earned third place. Rubens had a good start, gaining a place early on, but unfortunately did not have a strong race. After a strong qualifying result yesterday it was a shame to not get more from the race."
"I am also disappointed for both the Minardi drivers today. The valve cap on both their left rear tyres was not replaced during their pitstops and this caused their tyres to deflate.
"Taking an overall perspective on today's results, however, we did have some new developments here and we have gained some useful data for the future. We have learnt from this race and once we have combined the information from all the Bridgestone drivers and all the car data, we hope to keep the improvements coming for the future Grand Prix."

Ross Brawn, Ferrari Technical Director:

"The beginning of our race was spoilt by being stuck behind Trulli and we weren't competitive enough to win the race today. Michael may have finished a place higher without the early delay. We made the best of what we had but we weren't really quick enough."
"As always, we'll have to go away and have a think about how we can be stronger next time. As soon as the drivers tried to push today, the car became difficult. Rubens also lost grip through the race but Michael's car was probably a little better balanced. All in all, we were not really strong enough with either car."