NEWS
'Hockenheim is always a big challenge'
[19 July 2005]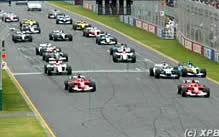 Bridgestone Motorsport and its three teams: Ferrari, Jordan and Minardi; head to round twelve of the 2005 FIA Formula One World Championship at Hockenheim, Germany this weekend for the third of July's four races. Although a brief break for some, many on the F1 circuit were testing last week. The forthcoming German and Hungarian races are two of the toughest Grand Prix on the calendar so all three Bridgestone shod teams were hard at work.
Ferrari and Jordan tested at Paul Ricard in France while Minardi ran a one day test at Vallelunga in Italy.
Hiroshi Yasukawa, Director of Motorsport:
"Michael Schumacher won the German Grand Prix last year in front of his home crowd and we expect both he and teammate Rubens Barrichello to have a chance for a podium this year. Jordan and Minardi too, have been pushing forward with their development schedules so I expect them to be fighting hard this weekend."
"However, Hockenheim is always a big challenge so our technical personnel have been working hard evaluating the latest tyres from Japan. It is important at this stage of the season to keep up the momentum after a run of back-to-back races and make sure our teams have the best opportunities to gain as many points as possible. Germany will be a hard fought race but a good one I hope."

Hisao Suganuma, Technical Manager:
"The Hockenheim circuit is one of the most difficult tracks for tyres. One of the reasons for this is the high temperatures normally experienced at this time of year. If sunny, we need to be prepared for track temperatures of over 50 degrees Celsius which can accelerate tyre wear rates. So from that point of view, our tyres need to have good wear resistance to cope with qualifying and the full race distance. The track surface, however, is relatively smooth which means we would normally require tyres with compounds from the softer end of the range so we need to choose our compounds carefully. We have also needed to take into account the nature of the track layout."
"Since modified, Hockenheim is no longer as fast as it used to be but the cars do still reach top speeds as they approach the Parabolica and hairpin bends so good braking and stability are key issues at this circuit. This is followed by the low speed infield section of the track where you really need good grip. Last week we tested several new compound developments from our latest family of compounds and as a result of finding promising results, I look forward to seeing some of them in action in Germany this weekend."