NEWS
Schumacher Predicts a Tough Weekend Ahead
[28 July 2005]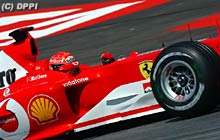 This weekend's challenge for Ferrari comes in the shape of Hungaroring, a circuit situated close to Budapest. The very tight and twisty nature of the circuit will not play into the hands of Michael Schumacher who struggled with excessive Bridgestone wear last time out in Hockenheim.
Schumacher ran third for much of the German Grand Prix weekend only for his tyres to go off in the second half of the race allowing first Jenson Button and then Giancarlo Fisichella past, pushing him down to fifth place at the chequered flag.
The F2005 has won just one race this year, the six car US Grand Prix, and any signs that the team are turning the performance problem around are not forthcoming. Simply put, the 2004 Champions are a second to a second and half off the ultimate pace in race conditions and that is too much ground to make up, despite the best efforts of all at the Maranello squad.
Michael Schumacher remains third in the drivers' championship, just four points behind the ever-unfortunate Kimi Raikkonen, while Championship leader Fernando Alonso is a massive 40 points ahead. Rubens Barrichello, who was unable to finish in the top-eight at Hockenheim, is fifth in the standings with 31 points. Ferrari are however a relatively comfortable third in the Constructors' Championship.
Michael Schumacher:
"This is the last race before the brief summer break. Taking into account the results of the last few weeks, it will probably not be an easy race. There are only a few days separating Hockenheim and Budapest and so it is unrealistic to expect big strides to have been made. Naturally, we will go on trying to improve the current state of affairs."
"The Budapest circuit, after the modifications made two years ago, is technically very demanding and, in my opinion, more interesting as a result. However, it is almost impossible to overtake and this has always been a crucial factor here. We will see what we are able to do... I recently stated that I didn't want to make predictions and this stands for Hungary too. We will be trying to do our best."