NEWS
Barrichello to BAR rumours grow louder
[30 July 2005]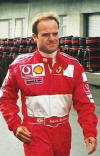 Rumours linking Brazilian Rubens Barrichello to BAR have become so loud that the Ferrari driver will soon need earplugs to drown them out.
The speculation has been simmering for weeks but former champion Nelson Piquet turned up the heat at the Hungarian Grand Prix by telling Brazil's O Estado de Sao Paulo newspaper that a deal was done.
If true, it would mean the first change in Ferrari's Formula One line-up since the start of the 2000 season, when Barrichello joined from now-defunct Stewart as team mate to Michael Schumacher.
Brazilian Felipe Massa, out of contract with Sauber, is considered the most likely replacement for Barrichello -- according to the rumour-mill.
The only problem was that nobody at the Hungaroring, least of all Barrichello himself, would confirm the veracity of the report on Saturday.
"The fact is that I have nothing to say, more than I already said -- that I have a contract with Ferrari and that's it," he told reporters.
"Rumours are going mad and it seemed that at one race they come to me to ask me, at the other they just fell back a little bit. It's just going up and down. I think in Brazil they wish to see a change, so that's why they keep on saying it.
Barrichello said he was quite happy where he was but was evasive when asked whether he was still intent on staying at Ferrari.
"At the moment nothing has changed from previous weeks. The stories come from all over the place and you guys know more than I do...in all honesty, I have nothing to say."
BAR technical director Geoff Willis said nothing had been decided about their lineup, mainly because of the uncertainty over Briton Jenson Button who has signed a contract with Williams but wants to stay.
However Barrichello could equally replace Japan's Takuma Sato, who is one of just two drivers still without a point this year.
Willis agreed that BAR needed to have two race-winning drivers for next season, a category that Barrichello would clearly fall into with his nine victories for Ferrari.
The Brazilian is also a good friend of BAR's new sporting director Gil de Ferran, the Brazilian who won the Indy 500 and CART championship in the United States.
"Gil has always been a friend of mine," said Barrichello. "That's what I think started all the rumours because of this friendship.
"But if he has to give a place to all of his friends, BAR will need five or six cars on the grid next year.