BARCELONA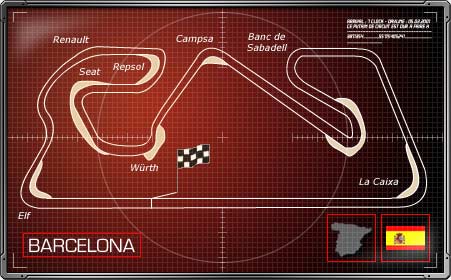 Track length : 4.627 km

Number of laps : 66 (305.256 Km)
Spectator Capacity : ~104,000
Creation Date : 1991
Record Pole : Michael Schumacher - Ferrari - 1:15.022 (2004)
Fastest Lap : Michael Schumacher - Ferrari - 1:17.450 (2004)

1. Michael Schumacher - Ferrari
2. Rubens Barrichello- Ferrari
3. Jarno Trulli - Toyota
2004 - Michael Schumacher - Ferrari
2003 - Michael Schumacher - Ferrari
2002 - Michael Schumacher - Ferrari
2001 - Michael Schumacher - Ferrari
2000 - Mika Hakkinen -McLaren
1999 - Mika Hakkinen -McLaren
This circuit was built in 1991, after the Spanish Motor federation decided to stop sharing the Spanish Grand Prix between four other tracks. It is situated just north of Barcelona, with a layout better than other modern tracks.
Nigel Mansell won in 1991, after Gerhard Berger's engine blew, and Ayrton Senna chose the wrong tyres for the changing conditions. 1992 saw Mansell winning again, with then rookie, Michael Schumacher taking second. Senna came to grief once more, spinning off into the wall with only a few laps to go.
Alain Prost dominated for Williams in 93, ahead of Senna, and in 94, Damon Hill helped make the team smile again after Ayrton's death, taking the win, with Schumacher second. Michael Schumacher won in 95, and dominated 96, in very wet conditions, rising from 6th to the lead by lap 12, and 97 saw Jacques Villeneuve winning for Williams. Mika Hakkinen took the win here three years in succession, 98 and 99 and 2000 with Michael Schumacher victorious for Ferrari in 2001 and 2002.
Michael Schumacher continued his Spanish dominance in 2003 as he took the victory ahead of local hero Fernando Alonso in 2003 and ahead of team-mate Barrichello in a crushing one-two result in 2004.
For 2005, the circuit has undergone a few safety modifications but significantly has been completely resurfaced for the first time since the circuit opened.