HUNGARORING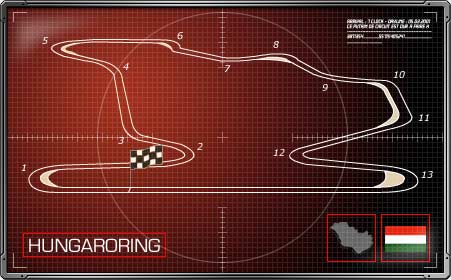 Location : Hungaroring, Budapest
Track length : 4.381 km

Number of laps : 70 (306.663 Km)
Spectator Capacity : ~120,000
Creation Date : 1986
Record Pole : Michael Schumacher - Ferrari - 1:19.146 (2004)
Fastest Lap : Michael Schumacher - Ferrari - 1:19.071 (2004)

1. Michael Schumacher - Ferrari
2. Rubens Barrichello - Ferrari
3. Fernando Alonso- Renault
2004 - Michael Schumacher - Ferrari
2003 - Fernando Alonso- Renault
2002 - Rubens Barrichello - Ferrari
2001 - Michael Schumacher - Ferrari
2000 - Mika Hakkinen - McLaren
1999 - Mika Hakkinen - McLaren
The Hungaroring is built 12 miles north east of Budapest, and is set in a natural Amphitheatre, as the track starts on one side, goes down into a valley before going down the far side, then turning and coming back in the opposite direction. Overtaking is virtually impossible here, as the track is narrow, with many slow corners.
1986 saw Nelson Piquet win the inaugural race after beating archrival, Ayrton Senna, in a close battle. He won again the following year, after Nigel Mansell was forced to forfeit the victory due to a loose wheel nut, with only 6 laps remaining. Damon Hill won his first Grand Prix victory here in 1993, and in 1994, Michael Schumacher raced his Benetton to the win for the teams' maiden Hungaroring victory. Damon Hill won again in 95, and came second in 96, behind teammate Jacques Villeneuve.
In 1997, Damon almost achieved the impossible, bringing his little fancied Arrows to within a lap and a lap of victory, before having to slow with a throttle failure, handing the win to his ex teammate at Williams, Jacques Villeneuve. Notorious among drivers as a very boring and hot circuit to compete on, the 1998 race was won by Ferrari driver, Michael Schumacher. However, the following two events, 1999 and 2000, were both mastered by McLaren driver, Mika Hakkinen. Ferrari secured the next two years with Michael Schumacher winning in 2001 and Rubens Barrichello in 2002.
Spain's Fernando Alonso made history by winning the 2003 race, becoming the youngest ever winner of a Formula One world championship race. The 22-year-old Spaniard led from start to finish winning by 16.768 seconds from Kimi Raikkonen in a McLaren with Williams drivers Juan Pablo Montoya and Ralf Schumacher in third and fourth.
Michael Schumacher was back to his winning ways as Bridgestone pulled out all the stops and brought a new compound of tyre to the twisty Hungarian track. Stung by their performance in 2003, the Bridgestone-Schumacher-Ferrari combination dominated in 2004 with Schumacher beating team-mate Barrichello by five seconds and 2003 winner Alonso consigned to the third position.