MONACO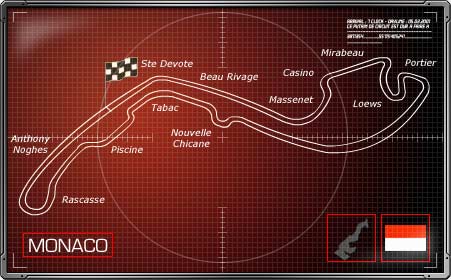 Track length : 3.340 km

Number of laps : 78 (260.520 Km)
Spectator Capacity : ~120,000
Creation Date : 1950
Record Pole : Jarno Trulli - Renault - 1:13.985 (2004)
Fastest Lap : Michael Schumacher - Ferrari - 1:14.439 (2004)
1. Jarno Trulli - Renault
2. Jenson Button- BAR Honda
3. Rubens Barrichello - Ferrari
2004 - Michael Schumacher - Ferrari
2003 - Juan Pablo Montoya - Williams
2002 - David Coulthard - McLaren
2001 - Michael Schumacher - Ferrari
2000 - David Coulthard - McLaren
1999 - Michael Schumacher - Ferrari
The Monaco Grand Prix is set in the luxurious streets of Monte Carlo, and is one of the most traditional races on the calendar.
The circuit winds its way through the streets, from Ste devote, it goes uphill to Casino square, then plunges back down to Mirabeau before heading into the Loews hairpin.
The first race was run in 1929, and in 1950, it was second on the calendar, when ten cars collided in a spectacular first lap accident, and Fangio raced on for the win.
Stirling Moss won in 1956, but in 57, he was involved in an accident at the chicane, and handed victory to Fangio. Moss was the main pace setter in this era, and his most memorable victory was in 1961 when he expertly held off both Ferraris. It was the first race after Ayrton Senna's tragic death, and it saw Michael Schumacher dominate, as he did again in 1995. Panis scored a surprise win for Prost in 1996, and Schumacher dominated once again in wet conditions in 97.
The McLaren of Mika Hakkinen took the honours in 98, with Schumacher and the Ferrari returning to claim the Germans fourth win in 99. The year 2000 was David Coulthard's time to shine, the Scot winning ahead of Ferrari driver, Rubens Barrichello and Benetton man, Giancarlo Fisichella. In 2001 McLaren driver David Coulthard was sent to the back of the grid for stalling and spent most of the event stuck behind the Arrows of Enrique Bernoldi as Michael Schumacher romped home for the win. However, the Scot got his own back in 2002 with a well-deserved victory, his one and only of the season.
Juan Pablo Montoya drove a superb race to secure his and Williams first win of the 2003 season, a mere 6 tenths of a second in front of the McLaren of Kimi Raikkonen. Michael Schumacher crossed the line in third place, a further second behind the Finn.
2004 saw quite a race around the streets of Monte Carlo as Jarno Trulli drove the race of his career from pole position to chequered flag to record Renault's sole victory of the season. The Italian racer battled long and hard to keep Michael Schumacher behind him, but the Ferrari star found himself inexplicably tangled up with Juan Pablo Montoya whist behind the safety car and his race was over on the spot.
The 2004 race will also be remembered for Fernando Alonso's massive crash in the tunnel as the Spaniard tried to pass around the outside of Ralf Schumacher's ailing BMW Williams.