HOCKENHEIM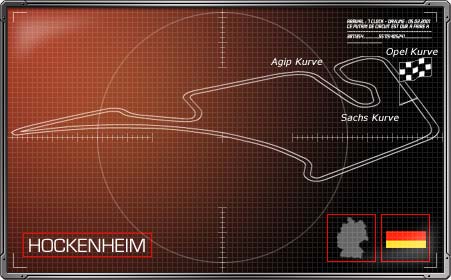 Track length : 4.574 km

Number of laps : 67 (306.458 Km)
Location : Hockenheim, Germany
Track length : 4.574 km

Number of laps : 67 (306.458 Km)
Spectator Capacity : ~100,000
Record Pole : Michael Schumacher - Ferrari - 1:13.306 (2004)
Fastest Lap : Kimmi Raikkonen - McLaren - 1:13.780 (2004)

1. Michael Schumacher - Ferrari
2. Jensen Button - BAR Honda
3. Fernando Alonso - Renault
2004 - Michael Schumacher - Ferrari
2003 - Juan Pablo Montoya - Williams
2002 - Michael Schumacher - Ferrari
2001 - Ralf Schumacher - BMW-Williams
2000 - Rubens Barrichello - Ferrari
1999 - Eddie Irvine - Ferrari
This track was originally used as a test track for Mercedes, but became a venue for Formula One in 1970, while the Nurburgring was being modified. Sadly, this is another track that is remembered because of tragedy this time it was the death of the great Jim Clark when he raced Formula 2000 in 1968. Patrick Depaillar also lost his life here, during testing in 1980.
The first F1 race held here, in 1970, was dramatic, as Jochen Rindt drove his Lotus home, a nose in front of Jacky Ickx's Ferrari.
The race returned to Hockenheim in 1977, in response to the drivers not wishing to race at the Nurburgring, following Niki Lauder's near fatal accident in 1976. Lauder, ironically enough, won the 77 race.
The most memorable race at this circuit was in 1982, when Nelson Piquet made the headlines after trying to punch Eliseo Salazar after they collided. It also saw Pironi badly injured during wet practice for the race, and his teammate, Patrick Tambay, went on to score an emotional win. The craziest race held here would have to be 1994, when, the end of the first lap left saw only half the field remaining. Michael Schumacher retired, and Gerhard Berger went on to give Ferrari their first win in 4 years.
Although the 82 race was very memorable for fans and drivers alike, the 2000 event was very powerful, especially for Brazilian driver, Rubens Barrichello. The Ferrari driver took his first Grand Prix victory after starting 18th on the grid and after a race that was dictated by changing weather conditions and a disgruntled Mercedes employee who decided to walk across the track, Rubens succumbed to tears on the podium as his emotions overwhelmed him.
The track was modified after the 2001 event, which was won by Michael Schumacher, the overall length drastically reduced. For 2002, the circuit's 70th anniversary, there was a new look and a new name, the "Hockenheimring Baden Württemberg". The shortened version saw laps increased from 67 laps instead of 45. Michael Schumacher was once again the winner.
Juan Pablo Montoya won his second race of the 2003 season by dominating the proceedings. The Colombian took the lead into the first corner, which saw the retirement of Ralf Schumacher, Kimi Raikkonen and Rubens Barrichello after a three-way collision. McLaren's David Coulthard finished in a well-deserved second place and Jarno Trulli claimed the final podium position for Renault, having suffered with blistering rear tyres during the closing stages of the race.
Michael Schumacher won the German Grand Prix from Pole Position in 2004 with Jenson Button busy holding his flapping crash helmet visor en route to the runner up position for BAR Honda while Fernando Alonso finished third for Renault.