NURBURGRING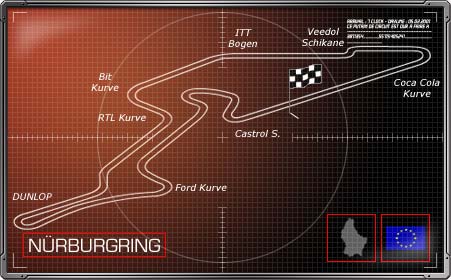 Location : Nürburgring, Germany
Track length : 5.148 km

Number of laps : 60 (308.863 Km)
Spectator Capacity : ~140,000
Creation Date : March 1951
Record Pole : Michael Schumacher - Ferrari - 1:28.351 (2004)
Fastest Lap : Michael Schumacher - Ferrari - 1:29.468 (2004)

1. Michael Schumacher - Ferrari
2. Rubens Barrichello - Ferrari
3. Jensen Button - BAR Honda
2004 - Michael Schumacher - Ferrari
2003 - Ralf Schumacher - BMW-Williams
2002 - Rubens Barrichello - Ferrari
2001 - Michael Schumacher - Ferrari
2000 - Michael Schumacher - Ferrari
1999 - Johnny Herbert - Stewart
In its early days, (1925) the Nurburgring was 17.58 miles in length, and was a seemingly endless chain of ups and downs, with many twisting curves between pine trees.
The sixties saw a world champion win here with the great Sir Stirling Moss win his last ever race in 1961 and Jackie Stewart overcame horrendous conditions in 1968 to take the win by a full 4 minutes. Pressure from Stewart about the safety of the track, prompted the changes that took place in 1970 when barriers were installed, and the track was widened.
1976 saw the Nurburgring discontinued after Nikki Lauder suffered horrific burns, and when it returned in 1984, it was very different. It was rebuilt alongside the old track, and was reduced to 2.822 miles, with only a few interesting corners. Once again the track was modified in 1986, to its now 2.831 miles.
1995 produced an outstanding race with Michael Schumacher in the Benetton, passing the Ferrari of Jean Alesi with only three laps to go, and 96 saw Jacques Villeneuve secure his first Formula One victory. Michael Schumacher will never forget the 97 race as his younger brother, Ralf, forced him into retirement on the first lap. Both McLarens blew engines within a lap of each other, leaving Villeneuve to take the win.
McLaren's Mika Hakkinen took the win in 98, even after a Ferrari front row on the grid, but 1999 saw a fantastic win by Stewart driver Johnny Herbert. In a wet/dry race, the Englishman handed the team their maiden victory and sadly, Johnny failed to repeat the performance before he retired from the sport a year later. 2000 was Schumacher's turn for success, followed home by both McLaren drivers, Mika Hakkinen and David Coulthard. Another victory came Michael's way in 2001 with Juan Pablo Montoya second, but it was the second Ferrari of Rubens Barrichello that stole the limelight in 2002 with teammate Michael Schumacher in second place.
Ralf Schumacher stormed to victory in the 2003 European Grand Prix, heading a Williams 1-2 ahead of team-mate, Juan Pablo Montoya. Ralf Schumacher won the race by a commanding 16.8 seconds, having taken the lead on lap 26 when Kimi Raikkonen's Mercedes-Benz expired. It was a doubly disappointing day for McLaren: David Coulthard spun to retirement just two-laps from the chequered flag following an intense battle with Fernando Alonso. Ferrari's Rubens Barrichello rounded off the podium standings.
Michael Schumacher took his third win in five years in 2004 as he led team-mate Barrichello across the line for another Ferrari one two result in what was their most dominant season. Takuma Sato qualified a fine second in his BAR Honda, but an engine failure ruined the Japanese driver's chance to challenge Ferrari and team-mate Jenson Button took the third position.