INDIANAPOLIS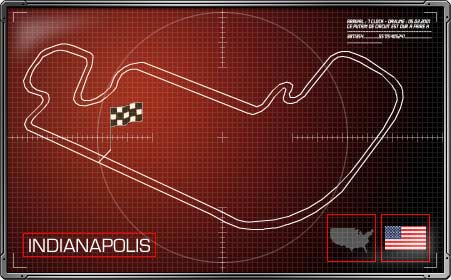 Location : Indianapolis, United States
Track length : 4.192 km

Number of laps : 73 (306.016 Km)
Spectator Capacity : ~250,000
Creation Date : 1998
Record Pole : Rubens Barrichello - Ferrari - 1:10.223 (2004)
Fastest Lap : Rubens Barrichello - Ferrari - 1:10.399 (2004)

1. Michael Schumacher - Ferrari
2. Rubens Barrichello - Ferrari
3. Takuma Sato - BAR Honda
2004 - Michael Schumacher - Ferrari
2003 - Michael Schumacher - Ferrari
2002 - Rubens Barrichello - Ferrari
2001 - Mika Hakkinen - Ferrari
2000 - Michael Schumacher - Ferrari
Prior to the 2000 event, the last time a Formula One Grand Prix was held in the United States of America was back in 1991 when it was held in Phoenix. The late great Ayrton Senna claimed victory in his McLaren on the 81 lap long circuit.
The circuit was constructed from the famous oval that plays host to the NASCAR Brickyard race and the Indy 500 and the new layout is now just over 4 kilometres in length.
In a race that was completely new to all 22 drivers, Ferrari driver, Michael Schumacher dominated the event from start to finish. He led home a Ferrari one two for the first time on the new circuit, continuing his domination from early in the season. Up until this race, McLaren driver, David Coulthard was still in with a chance of victory, however he was taken out of contention and was forced to watch his dreams of taking the drivers championship vanish.
2001 was double world champion Mika Hakkinen's final victory before he retired, thrilling the American fans with his special finesse after weeks of sadness due to the tragic terrorist attacks earlier in the month. In 2002 Michael Schumacher dominated the weekend from start to, almost, finish, the Ferrari star slowing down on the final lap so that teammate Rubens Barrichello could catch up and the duo could cross the line with the smallest ever margin. The attempt failed and Barrichello crossed the line first by a fraction of a second.
The 2003 race definitely began in Kimi Raikkonen's favour as he stormed away from the rest of the field having started from pole position. As the laps wore down Montoya watched his Championship dream die (he retired after colliding with Barrichello) while Raikkonen saw his strength, but it was Michael who had the biggest smile as he crossed the line to clinch another victory.
2004 was not a classic event by any stretch of the imagination as the race was compromised by poor decision making from race control, culminating in some serious on-track incidents. Michael Schumacher won the race from Rubens Barrichello with no last lap incidents while Takuma Sato took his first career podium in his BAR Honda.
The first lap saw four cars eliminated from the proceedings before Fernando Alonso speared off the track and into the concrete retaining wall at the end of the straight. With debris on track the race continued and a lap later Ralf Schumacher suffered a tyre failure on the final right hander, slamming backwards into the wall.
Schumacher's injury would force him to miss much of the season, but more questions were asked of race control who even with Schumacher's BWM Williams stranded on track kept the race cars circulating. To add insult to injury at Williams, Juan Pablo Montoya was disqualified from the race on lap 57 of 73 for taking the spare car just second prior to the start of the race.