IMOLA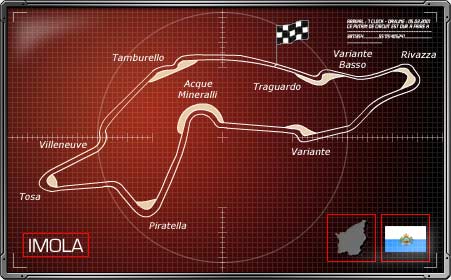 Location : Imola, Italy
Track length : 4.933 km

Number of laps : 62 (305.609 Km)
Spectator Capacity : ~60,000
Creation Date : 1980
Record Pole : Jensen Button - BAR Honda - 1:19.753 (2004)
Fastest Lap : Michael Schumacher - Ferrari - 1:20.411 (2004)
1. Michael Schumacher - Ferrari
2. Jensen Button - BAR Honda
3. Juan Pablo Montoya- Williams
2004 - Michael Schumacher - Ferrari
2003 - Michael Schumacher - Ferrari
2002 - Michael Schumacher - Ferrari
2001 - Ralf Schumacher - Williams
2000 - Michael Schumacher - Ferrari
1999 - Michael Schumacher - Ferrari
The first San Marino Grand Prix was held at Imola in 1979, a week after the Italian Grand Prix. It was a non-championship event, as Formula One used to adhere to the rule that there was only one race per country, with only the odd exception.
The track was built in the 1950's and it was originally 3.1 miles in length. It rarely hosted any major events, and as with a lot of the other new circuits appearing in F1, it had to be reconstructed to suit.
Niki Lauda won the first championship race that was held in 1980, when after some political manoeuvring, it saw the Italian Grand Prix held here, instead of Monza. From that year forward, to solve the political unrest, Italy has hosted two GP events.
Imola has seen its fair share of dramas, starting back in 1982, when a feud started between Didier Pironi, and Giles Villeneuve, to 1987 and Nelson Piquet's massive accident during qualifying. Sad to say, the one event that Imola will always be remembered for was the tragic death of the late, great Ayrton Senna in 1994.
Michael Schumacher won the 2000 event, even though McLaren driver, Mika Hakkinen took pole position. The Finn didn't finish far behind the German, claiming second place while teammate David Coulthard took third. In 2001 the Scotsman claimed pole, but the win went to Ralf Schumacher, his first ever career victory, but brother Michael was back on the top step of the podium in 2002.
Michael Schumacher won the race once again in 2003 crossing the line in front of McLaren's Kimi Raikkonen and Rubens Barrichello in third. It was more of the same in 2004 with Schumacher taking his third straight win and with Ralf Schumacher's 2001 victory, it meant that no one but a Schumacher had won at Imola since David Coulthard's 1998 triumph.
Imola 2004 will however be remembered for Jenson Button's stirring first career Pole Position in his BAR Honda and his spirited chase of Schumacher following the loss of the lead during the first round of stops.