INTERLAGOS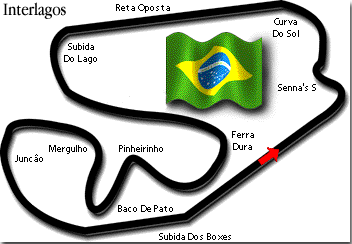 Location : Sao Paulo, Brazil
Track length : 4.309 km

Number of laps : 71 (305.909 Km)
Spectator Capacity : ~120,000
Record Pole : Rubens Barrichello - Ferrari - 1:10.646 (2004)
Fastest Lap : Juan Pablo Montoya - Williams - 1:11.473 (2004)

1. Juan Pablo Montoya - Williams
2. Kimi Raikkonen - McLaren
3. Rubens Barrichello - Ferrari
2004 - Juan Pablo Montoya - Williams
2003 - Giancarlo Fisichella - Jordan
2002 - Michael Schumacher - Ferrari
2001 - David Coulthard - McLaren
2000 - Michael Schumacher - Ferrari
1999 - Mika Hakkinen - McLaren
As in Argentina, the success of an F1 driver also led to the opening of a track in Brazil. Although the track was there long before his birth, it took the success of Emerson Fittapaldi to bring Formula One to it.
Set in the suburbs of San Paulo, the original track was 4.949 miles in length, one of the longest of any track used in any era.
The track is very bumpy, and it takes great reflexes and skill to have control of the car in any given situation, the tight corners posing some serious problems for the speeding machines. A chicane has since been placed at the first corner, to slow the cars down.
Ayrton Senna drove his maiden race for Williams at this track. He had already achieved his dream of winning his home race in 1991 and again in horrendous conditions in 1993. Although he had hoped to win with Williams, it wasn't to be, and Michael Schumacher won the first race of his championship year.
Interlagos traditionally either precedes or follows Argentina on the F1 calendar, but since the Argentina race was cancelled, it has been second on the calendar. In 2000 we saw Ferrari driver, Michael Schumacher take victory with David Coulthard a close second. However, due to the roughness of the circuit, there was controversy over the wear on most of the top six finishers. In the subsequent scrutineering, officials found a technical infringement with Coulthard's McLaren, resulting in the disqualification of the Scot from the race.
Fans will always remember the 2001 event as rookie Williams driver made a daring move on Michael Schumacher. In wet conditions the Colombian passed the Ferrari on a restart, and would surely have won the event, only the third race of his F1 career, if not for a collision with the Arrows of Jos Verstappen as the Williams driver attempted to put a lap on the Dutchman. David Coulthard went on to win the event for McLaren while Michael Schumacher was back to his winning ways in 2002.
Giancarlo Fisichella gets his very first GP victory in the 2003 edition of the race, despite the fact that Kimi Raikkonen was initially declared the winner in a confusing, wet race that ended in chaos when Mark Webber and Fernando Alonso crashed near the finish line. Fortunately, both drivers escaped without any injuries.
Tricky weather conditions added to the spice in 2004 with Juan Pablo Montoya coming through to take his only win of the season with BMW Williams with Kimi Raikkonen taking the second position just a second further back. Local hero Rubens Barrichello claimed the Pole Position but on race day had to be content with third position for Ferrari and his first finish at the circuit since 1994.