MAGNY-COURS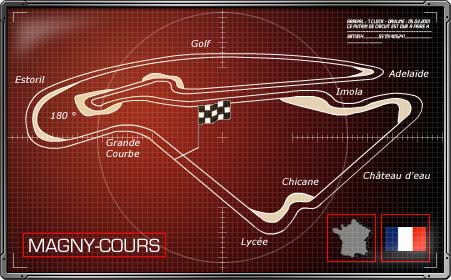 Location : Magny-Cours, France
Track length : 4.411 km

Number of laps : 70 (308.586 Km)
Spectator Capacity : ~120,000
F1 Debut : 7 July 1991
Record Pole : Fernando Alonso - Renault - 1:13.698 (2004)
Fastest Lap : Michael Schumacher - Ferrari - 1:15.377 (2004)

1. Michael Schumacher - Ferrari
2. Fernando Alonso - Renault
3. Rubens Barrichello - Ferrari
2004 - Michael Schumacher - Ferrari
2003 - Ralf Schumacher - BMW-Williams
2002 - Michael Schumacher - Ferrari
2001 - Michael Schumacher - Ferrari
2000 - David Coulthard -McLaren
1999 - Heinz Harald Frenzten - Jordan
Situated in central France, Magny-Cours is the smoothest of all the circuits, boasting top-class pit facilities.
The first Grand Prix held here was in 1991, when Nigel Mansell won for Williams, after a long battle with the Ferrari of Alain Prost. He won again in 92, in a wet/dry race, and in 93, Alain Prost made it three in a row for the Williams team.
Mansell had returned to Formula One briefly, and was there for the 94 race. Although he qualified on the front row of the grid, he failed to complete the race, and Michael Schumacher raced to victory, as he did again in 95. He wasn't lucky a third time, as his Ferrari blew up on the parade lap in 96, and Damon Hill took the win.
In 1997, Michael Schumacher raced the Ferrari home once again, with Heinz-Harald Frentzen coming in second. The following year saw the first Ferrari one-two victory in eight years as Michael Schumacher won again, followed home by teammate Eddie Irvine.
1999 saw Jordan driver, Heinz-Harald Frentzen take the victory in one of the best races at the French circuit. In constantly changing weather conditions, the German drove to victory, still unaware that he was actually driving with a broken kneecap due to an incident in the Canadian Grand Prix two weeks earlier.
McLaren driver David Coulthard got the best of the track and the other 21 competitors in 2000, the Scot taking victory ahead of teammate Mika Hakkinen and Ferrari driver, Rubens Barrichello. Michael Schumacher won for Ferrari in both 2001 and wrapped up his 5th world title with another win in 2002, the eleventh event on the calendar.
Williams dominated the 2003 edition of the race. Ralf Schumacher won the event, followed by his team-mate Juan Pablo Montoya. Michael Schumacher finished the race in third spot. Although the Ferrari driver made a relatively poor start, allowing Raikkonen to move ahead of him, he passed the Finn during the third - and final - pit stop of the afternoon.
Michael Schumacher was back to his winning ways in 2004 taking his seventh French Grand Prix triumph with Fernando Alonso finishing second in the Renault ahead of Rubens Barrichello who made a superb last lap pass on the red-faced Jarno Trulli in the second Renault.