MELBOURNE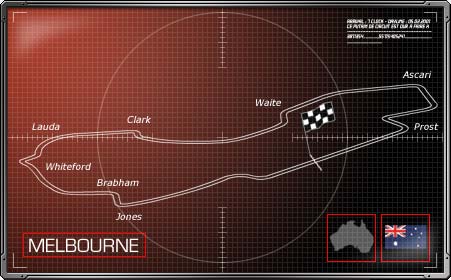 Location : Albert Park, Melbourne
Track Length : 5.303 km

Number of laps : 58 (307.574 Km)
Spectator Capacity : 80,000
Creation Date : 1996
Record Pole : Michael Schumacher - Ferrari - 1:24.408 (2004)
Fastest Lap : Michael Schumacher - Ferrari - 1:24.125 (2004)
1. Michael Schumacher - Ferrari
2. Rubens Barichello - Ferrari
3. Fernand Alonso - Renault
2004 - Michael Schumacher - Ferrari
2003 - David Coulthard - McLaren
2002 - Michael Schumacher - Ferrari
2001 - Michael Schumacher - Ferrari
2000 - Michael Schumacher - Ferrari
1999 - Eddie Irvine - Ferrari
Melbourne ran its first Formula One race in 1996, after taking the Australian venue from Adelaide.The Melbourne track, is contained in a park, the layout smooth and flowing, with no 90 degree street corners to break the speed. It runs clockwise around a lake.
Damon Hill, still all charged up from his victory in the closing race of 1995, continued where he left off, winning the maiden victory, after his new Williams team-mate, Jacques Villeneuve, had to slow at the end of the race with engine problems.
1997, Melbourne's' second year, Jacques Villeneuve looked set to win again for Williams, after dominating qualifying, by a massive margin, but he was taken out on the first corner by Eddie Irvine, and so David Coulthard raced on to McLarens first win since Adelaide in 1993. This race also gave Damon Hill an early indication that his run with the Arrows team, would not be smooth, as his car coasted to a halt on the parade lap, preventing him from participating in his first title defending race.
1998. Once again David Coulthard looked set to win, after teammate, Mika Hakkinen, lost so much time in the pits. Learning of the Fins predicament, David slowed to let Mika pass, honouring a gentleman's agreement the two had made before the race.
1999 saw Eddie Irvine take his first ever GP win for Ferrari and although the Irishman had left for the Jaguar team for the 2000 championship, it was another Ferrari victory, this time a one two with Michael Schumacher claiming his first ever Australian win and new teammate Rubens Barrichello coming in second.
The Australian race was marred by the tragic death of a safety marshal after a collision between the BAR of Jacques Villeneuve and the Williams of Ralf Schumacher. Michael Schumacher went on to take his second victory, making it a hat trick in 2002. Being at the start of the season, the track is well known as a debut for many rookies, and local driver Mark Webber was immortalized when he crossed the line in his debut race in fifth place last year.
David Coulthard won only one race in 2003, here in Australia. The McLaren driver finished in front of Williams' Juan Pablo Montoya in second place and Kimi Raikkonen in third position. In 2004, Michael Schumacher was back in control leading home team-mate Rubens Barrichello in what would be a dominant season for Ferrari and Michael's seventh championship success.